National Ski Patrol - Western Appalachian Region News
Patroller School and Women's Seminar
Holiday Valley is hosting a patroller school and Women's seminar the weekend of Jan 31 and Feb 1, 2015. Patrollers from our region are invited to attend. For more information or an application, contact Mary Lyn Boberg.

Intro to Avalanche Course - January 31 - Canaan Valley
An introduction to Avalanche course will be held at Canaan Valley on January 31, 2015. The course teaches an understanding of avalanche terrain, the causes of avalanches, and search and rescue techniques. The course is required for all Nordic patrollers and is a fun option for Alpine patrollers. It's also an elective for the Senior program. If you are interested in learning more about the course, contact John Boburchuk by email or call 814-659-7017.
Region Nordic Training Schedule
Region Nordic Advisor Jerry Timcik has announced the region Nordic training schedule. While it's designed for those preparing for the Nordic Senior exam, anyoe is welcome to attend. The dates, snow or no snow, are as follows:
* Jan 10 - Shelter and Fire Building - Location: Kooser
* Jan 24 - Toboggan Building, Static and Moving Belay - Location: Laurel Summitt
* Feb 14 - Map and Compass/Orienteering - Location: Kooser
* Feb 28 - You pick what you want to work on. - Location: TBA
All events are 1/2 day and start at 8:30am, snow or no snow. Ski clinics will be added as snow conditions improve. Contact Jerry Timcik for more information.
NSP Board of Director Elections complete
The results of the National Board of Director elections are in and are listed below. Thank you for your participation in the election.

Keith Cassidy - Southern Division
Bill Sinykin - Intermountain Division
Rick Knight - Eastern Division
Ken Kramer - Rocky Mountain Division
Chris Pringle - Eastern Division
Patrollers Complete Instructor Development Course
The 2014 Instructor Development class was held at Boyce Park this year. 14 patrollers from 5 ski areas including Hidden Valley, Seven Springs, Blue Knob, Laurel Summit and Laurel Highlands Nordic patrols participated. As part of the class, each patroller had to teach a 10 minute lesson. This photo shows the successful results of a lesson in how to make a scare crow. If you'd like information on how to take the course, contact Pat Boccardi at patboc@juno.com.
Patrol Assists at Laurel Hill Adventure Race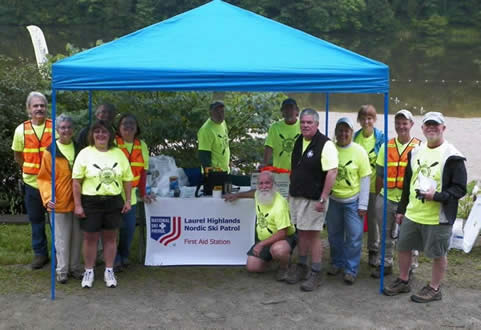 Diane Murray, Patrol Director of Laurel Highlands Nordic Patrol coordinated efforts with Kooser State Park to have the ski patrol provide first aid services for the 2014 Adventure Race. 14 patrollers from 4 patrols including Laurel Highlands Nordic, Laurel Summit Nordic, Blue Knob and Hidden Valley assisted at the race. The State Park Service appreciated the patrols' efforts and hopes they'll assist again next year. If you'd like to participate, contact Diane Murray at d.murray713@yahoo.com.
Seven Springs Ski Patrol Honors Three 50-Year Patrollers
Three patrollers were recognized for 50 years of service to the Seven Springs ski patrol and the National Ski Patrol at an awards banquet in April. All started their patrol careers together in 1964, but their backgrounds are quite diverse.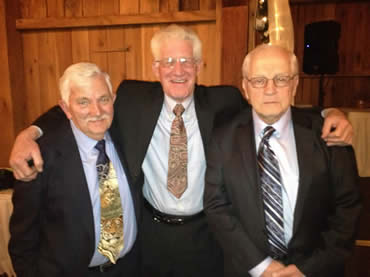 Jack Kowalski (left), born in 1937, is a retired postal carrier. Mild mannered, Jack became a senior early on, then trained many patrollers at his home patrol and the region over the years. He is a former region S&T and Senior adviser, and is still an OEC instructor.  Jack received National Appointment # 5509, a Blue Merit Star in 1995, and the Patroller Cross in 2007. 
Bob "Whitey" Weitzel (center), the young one of the group at 76, is outgoing and garrulous, never afraid to speak his mind. Now retired after years as a Nabisco Cookie sales representative, he serves as both a paid and volunteer patroller, and daylight supervisor. He  received a Purple Merit Star in 2004, and the Patroller Achievement Award this year.  
Jerry Leff (right), born in 1937, helped build his father's business, Leff Electronics, started out of the back of the family station wagon, into a successful enterprise. Now retired, Jerry was a former senior supervisor for his patrol. He also served in the military in the mid-60's.
We honor and thank these three men who have 150 years of patrol experience between them. They have given the better part of the lives to public service and the NSP.
Region Patrollers to Assist at Pittsburgh Marathon 2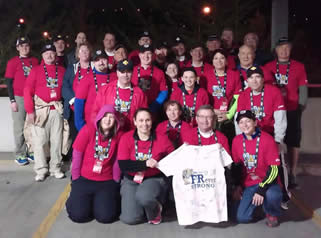 014
Once again, the patrollers of the Western Appalachian Region assisted at the Pittsburgh Marathon as Rapid Response Team members. Last year, after the bombing incident at the Boston Marathon, the region was asked to assist. Boyce Ski Patrol director Pat Boccardi volunteered to coordinate the region's response team consisting of twenty local patrollers. This year, thirty patrollers from patrols all over the region participated, including Blue Knob, Boyce Park, Canaan, Hidden Valley, Seven Springs, and Wisp.
Race medical director Dr. Ron Roth reported that even with great weather, of the 30,000 Pittsburgh Marathon participants the medical teams still treated a total of 166 runners (89 at the finish line medical tent and 77 at the medical aid stations along the course).  
Roughly 40 percent of those injured were treated for musculoskeletal issues (such as cramps and strains) and 30 percent for fatigue after marathon, half-marathon and relay races that were competed under the green flag, representing good weather conditions.
Dr. Roth said that the Rapid Response Teams, made up mostly of thirty volunteer ski patrollers from the region, "are the hardest working individuals on our medial team." Dee Stathis, Director of Marathon Operations, echoed that sentiment, saying, "You made a huge impact on how our participants are cared for at the finish line."
Dr. Eli Friedman, who supervised the Rapid Response Teams, thanked the team for their efforts and sacrifices, saying, "Though the weather was great, I would argue that it was your quick triage and identification of potentially ill runners that kept people out of the medical tent and with their families and friends. You all did a fantastic job. We look forward to seeing you in 2015!"
Region's Young Adult Patrollers Shine at Division YAP Event
Our region Young Adult Patrollers (YAPs) did the region proud at the Eastern Division YAP Seminar at Sugarloaf, Maine. They took home 6 of a possibly 11 awards this weekend including:


1st place Skiing - Caleb Parnell - Blue Knob
2nd place OEC - Thomas Eshelman - Hidden Valley
3rd place Toboggan - Jared Boger - Seven Springs
2nd place Over All - Thomas Eshelman - Hidden Valley
1st place Over All - Caleb Parnell - Blue Knob
Hans Hyson Award - Caleb Parnell - Blue Knob

Congratulations to all 10 YAPs from our region that participated in the event, and to the 11 adults that chaperoned and drove the kids the 12 hours to Maine for the event, and especially to the region YAP advisor Liz Hermann who organized our region's participation in the event. Please let all of patrollers know what great kids we have in this region, and congratulate the kids when you see them.
Two Newest Certified Patrollers - Bart Gabler & Mike Wess
The region is pleased to announce and recognize Bart Gabler of Hidden Valley (Certified #786) and Mike Wess of Blue Knob (Certified #787) as the National Ski Patrol's newest Certified members! The Eastern Division Certified exam was held at Whiteface Mt. Lake Placid NY in March. Bart and Mike were the only two candidates to successfully complete all the components of the exam and earn the number and shield of a Certified patroller. As you may know, less than 1% of all NSP members are able to achieve this elite level.  With the addition of these two, the Western Appalachian Region has produced a total of 13 members in the past 40 years to reach this level.  This is a testament to the quality of teaching and dedication found in our region. Bart and Mike, on behalf of the S&T staff, "Congratulations."
2014 Region Patroller School & Women's Seminar a Success
The Western Appalachian Region 2014 Patroller School and Women's Seminar was a hugh success. Nearly 40 patrollers attended the two day event that offered top level training from division and region staff and PSIA level 3 instructors  Designed for all alpine patrollers - Candidate, Basic, Senior or working toward Senior or T/E - patrollers were able to to refine their skills in Skiing, Patroller Skills and Toboggan Handling. Women in the Women's Seminar were taught by top women in the division training staff the easy way to handle a toboggan.
The region thanks the visiting division staff from the Eastern PA and Western NY regions, as well as the Seven Springs PSIA Instructors, the Region TE's, Eric Speedy for coordinating the weekend, and Seven Springs Patrol Director Dick Barron for hosting the event.  
Blue Knob YAP Caleb Parnell saves life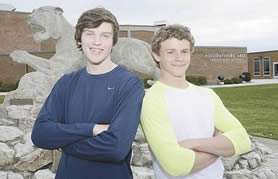 Caleb Parnell, a 17 year old Young Adult Patroller from Blue Knob Ski Patrol saved the life of a man who collapsed Sunday afternoon May 5th on the Hollidaysburg Area High School track where he and a friend were practicing football footwork drills. Both Golden Tigers football players, Caleb Parnell and Daniel Baker rushed over to Jerry Jackson, 68, who Parnell saw had fallen to the ground. An onlooker immediately called 911, but for the next 10 minutes, Jackson's heartbeat was in Baker's hands and his breath in Parnell's lungs. See the complete story in the Altoona Mirror, by clicking here.
Why Do We Ski at Tussey, There's No Gondola?
By Jeff Banks
I read SKI Magazine and I don't like it! Sure Lindsey Vonn is on the back cover and every other page has a phenomenal picture of incredible skiing in exotic locations but where is the article about our little mountain? I can dig it, who doesn't love Ms. Vonn, the outrageous skiing off of the Big Sky tram and the ethereal views from the base of Chamonix. The problem is I don't live in France and my mom doesn't give me enough allowance anymore to save up for ski trips out west. So, since our mountain is apparently not SKI Magazine article worthy, why do we ski at Tussey Mountain? I ponder this question as I sit in the roost after running training sleds on icy
Tuscarora (Jon Eckess made me do it) this past Tuesday evening. It is not just because Eric Vorwald looks fantastic in his custom Patagonia outfits or because we love skiing with Brian Younkin, who is the best skier in the south eastern portion of Centre County, well actually the best in just the north western section of the south eastern portion of Centre County. It is primarily because our patrol has interesting people who have developed camaraderie over the years and we like to have fun skiing regardless of the conditions. When I started the patrol I only knew a few patrol candidates from my cohort and I felt a little intimidated with my limited experience compared to the seasoned patrollers. Over the years though, I am sure that many of us have had a similar experience developing friendships and gradually feeling like a part of a Tussey mountain patrol family (or at least like a step family that we see on weekends). I think that we have a good mix of old school and new school and yes, even the snow boarders aren't bad to have around as long as they stay on their side of the mountain. Even though we don't get 500 inches of powder or have slope side condos and the terrain sometimes resembles a frozen glacier or an oatmeal mush bowl more than a ski area, we do have a nice little fun mountain that is close to home and more importantly a place where you can always find a friendly ski partner. It's been a great season and I look forward to seeing you all next year.
For questions, comments, or more information, click here to reach the Webmaster
Join the Ski Patrol
Alpine and Nordic Patrols in the Region are looking for additional members. To learn what patrolling is all about, click on the video.
For information about how to join a ski patrol, click here to contact us.
2014 - 2015
Training Schedule
Nov 15 & 16 - MTR-1 - Hidden Valley
Dec 13 - Intro to Senior EMM - Canaan Valley
Dec 20 - TE S&T Refresher - Seven Springs
Jan 4 - Senior EMM - Seven Springs
Jan 10 - Nordic Senior Clinic - Kooser
Jan 11 - S&T Clinic - Sawmill (Date Change)
Jan 11 - Senior EMM - Seven Springs
Jan 24 - S&T Clinic - Canaan Valley
Jan 24 - S&T Clinic - Mt. Pleasant
Jan 24 - Nordic Senior Clinc - Laurel Summitt
Jan 25 - S&T Clinic - Wisp
Jan 25 - Senior EMM - Hidden Valley
Jan 24 & 25 - Patroller School - Elk Mt., PA
Jan 31 - Intro to Avalanche Course - Canaan Valley
Jan 31 & Feb 1 - Patroller School - Holiday Valley, NY
Feb 1 - Senior EMM - Hidden Valley
Feb 7 & 8 - Region YAP Seminar - Blue Knob
Feb 8 - S&T Clinic - Tussey Mt. (Added Clinic date)
Feb 8 - Senior EMM - Seven Springs
Feb 14 - Nordic Senior Clinic - Laurel Summitt (New Location)
Feb 22 - Senior EMM - Seven Springs (New Location)
Feb 28 - Nordic Senior Clinic - Kooser
Mar 1 - Senior S&T Pretest - Seven Springs
Mar 1 - Senior EMM - Hidden Valley (New Location)
Mar 8 - Senior S&T Test - Seven Springs
Mar 15 - Senior EMM Eval - Seven Springs
Mar 14 & 15 - Division YAP Seminar - Jiminy Peak, MA
TBD - Instructor Development Course - Tussey Mt.
Links:
Region Director