National Ski Patrol - Western Appalachian Region News
Region patrollers volunteer at Pittsburgh Marathon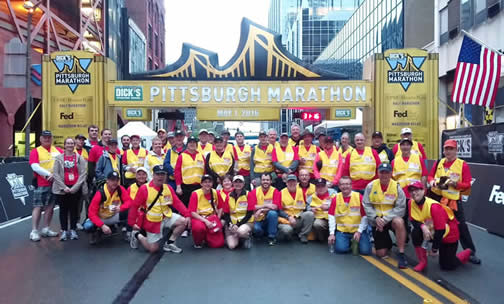 For the 4th year in a row, patrollers from the Western Appalachian Region assisted at the Pittsburgh Marathon. Nearly 50 patrollers from 8 ski areas in the region will volunteer as the Rapid Response Team (RRT) at the 2016 Pittsburgh Marathon on May 1st. Patrollers from Boyce Park, Hidden Valley, Seven Springs, Blue Knob, Laurel Highlands Nordic, Laurel Mountain, Wisp and Canaan ski patrols were there at the event. Good weather kept the injury rate down. This year 260 runners were treated by the Pittsburgh Marathon medical team. Last year, a total of 367 runners were treated. Race Medical Director Ron Roth said, "The RRT is a Pittsburgh invention that creatively filled the void of medical care in the chutes." Eli Freidman, finish line Medical Director said, "I am so humbled that many of you return year after year to take part in this. Each year is like a big family gathering to ensure the safety of all because, as the Ski Patrol says, "That's just what we do." A big thank you goes to Boyce Park patrol director Pat Boccardi for organizing the region's effort at this event for the each year. Region patrollers also assist at the EQT 10 mile race in November each year. (Photo by Connie Wolff)
New Region Director and Assistant Region Directors
Bill Smith IV of the Wisp ski patrol started his first term as the new Region Director April 1 after previous Region Director Marty Silverman reached his six year term limit. Bill Smith (who preferred to be called IV) appointed three new Assistant Region Directors (formerly known as Section Chiefs).
Michael Athen of Wisp will serve the Southern Section consisting of Wisp, Canaan Valley, Laurel Highlands Nordic and Laurel Summit Nordic.
Eric Waldman of Ski Sawmill will serve the Eastern Section consisting of Ski Sawmill, Tussey Mountain and Blue Knob.
Roger Strane of Seven Springs will serve the Western Section consisting of Seven Springs, Hidden Valley, Laurel Mountain, Mystic Mountain and Mt. Pleasant. Roger will also serve as the Alternate Region Director.
Young Adult Patroller (YAP) Seminar a success
The region Young Adult Patroller (YAP) seminar was held on Jan 23 & 24 at Blue Knob. The big 30+" dump on Saturday added to the fun of this great learning experience for the kids. The Division YAP event was held at Bromley, VT on March 19 & 20. Despite the warm spring the mountain was open. We have a strong YAP program headed by Liz Hermann. Click here for more information. If you'd like to attend an event, please contact Liz Hermann.
Patroller School and Women's Seminar sells out again!
The Western Appalachian Region Patroller School and Women's Seminar was a big it once again. For the third time in a row, the Patroller School was a sell out. This very popular event was enjoyed by all. If you missed it, watch for announcements for the next one.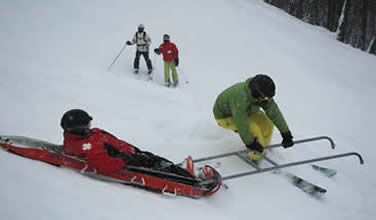 Clinics are designed to give patrollers of all levels a chance to attend a Skier Enhancement Seminar and Toboggan Enhancement Seminar, all in one weekend.  The Women's Clinic is the same as the Patroller school with the exception of it being women only; women instructors and patrollers. This is a great opportunity to meet fellow patrollers from different resorts and spend a weekend running sleds, skiing and getting tips and feedback from top level instructors from the region and other regions throughout the Eastern Division.
For more information, please contact Region S&T Adviser, Eric Speedy at ericspeedy@comcast.net.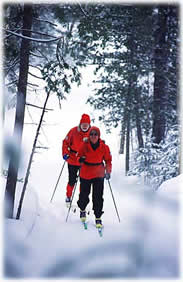 Laurel Summit Nordic Celebrates 40th Anniversary
The Laurel Summit Nordic Patrol (Formerly Laurel Hill Nordic) held their 40th anniversary celebration on Saturday, Feb. 6th, 2016. Many past and current primary and secondary (and Laurel Mountain) patrollers came to the event. It was held at the Warming Hut on Summit road. A fun day filled with reunions, old photos, skiing, and more was shared by all. If you missed it, please visit the Laurel Summit Facebook page. For more information, please contact Ann Rahn.
Region Patrollers Win Awards
We have a lot talented patrollers in our region. This year the Eastern Division recognized three of them.
* Bob Snoby of Hidden Valley - 2015 Outstanding OEC Instructor
* John Miller of Blue Knob - 2015 Outstanding Instructor (non OEC)
* Liz Hermann of Blue Knob - 2015 Outstanding Administrator
Three received Outstanding Western Appalachian Region Patroller Awards:
* Liz Hermann of Blue Knob - 2015 Outstanding Region Patroller
* Anna Hermann of Blue Knob - 2015 Outstanding Region Young Adult Patroller
* Bob Snoby of Hidden Valley - 2015 Outstanding Region Instructor
Three region patrollers were awarded National Appointments:
* Scott Graham of Laurel Mountain
* Liz Hermann of Blue Knob
* Jesse Hill of Blue Knob
In addition, six patrollers received Yellow Merit Stars:
* Jeff Alcorn of Seven Springs
* Evelyn Alcorn of Seven Springs
* Eric Speedy of Seven Springs
* Ken Schweinsburg of Hidden Valley
* Bob Snoby of Hidden Valley
* John Boburchuk of Blue Knob
Awards
We have many talented patrols and patrollers in the region. In the last four years our region has won two Eastern Division Outstanding Small Patrol awards (Mystic Mt and Ski Sawmill), the Outstanding Patrol Director (Pat McChesney of Mystic Mt.), the Outstanding Administrator award (Liz Hermann of Blue Knob), the Outstanding OEC Instructor (Bob Snoby of Hidden Valley) and two Outstanding Instructor Awards (John Miller and Mike Wess, both of Blue Knob). We have many more patrollers that should be recognized for their outstanding work.
There are awards for:
Alpine Patroller, Nordic Patroller, Patroller (formerly Auxiliary), Young Adult Patroller, OEC Instructor, non-OEC Instructor, Patrol Representative, Large Patrol, Small Patrol (under 40 patrollers), and Nordic Patrol.
There are also awards for saving a life. If you know of someone on your patrol that you feel is deserving of one of these awards, contact your awards advisor or your patrol director. Anyone can write an award, you don't have to be the awards advisor. The deadline for award submissions is Feb. 15th. Don't wait until the last minute. For more information, contact our region awards advisor Eva Kunkel.
Instructor Development Course held at Tussey Mountain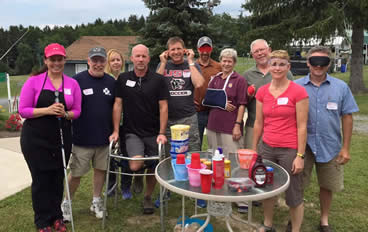 An Instructor Development class was held on Sunday August 9th at Tussey Mountain in State College, PA. Ten patrollers from all over the region, including Penn State Outing Club, Ski Sawmill, Blue Knob, Seven Springs, Canaan, and one visiting patroller from Heavenly Valley, CA. attended. As part of the class, each patroller had to teach a 10 minute lesson. This photo shows the successful results from the 2015 class of a lesson in how to make an ice cream sundae while encumbered with simulated physical disabilities. The Instructor Development course is off-line while it's being retooled. If you'd like information on how to take the next course in the spring, please contact Pat Boccardi at patboc@juno.com.
Region loses an institution - M. David Shaeffer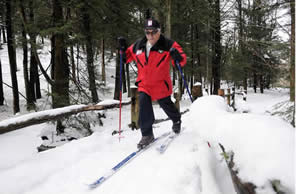 Long time patroller and an institution in the Western Appalachian Region and Eastern Division, Dave Shaeffer, known as M David to his fellow Nordic patrollers, passed away on Tuesday March 11 of complications from pneumonia. Dave founded both the Laurel Hill Nordic Patrol (now known as Laurel Summit Nordic) and the Hidden Valley Nordic Patrol (now known as Laurel Highlands Nordic). He also was head of the Nordic patrol at the 1980 Olympics at Lake Placid, along with Ann Rahn. Funeral arrangements are incomplete. I'll send more information as it becomes available. Dave will be missed.
Seven Springs Ski Patrol Honors Three 50-Year Patrollers
Three patrollers were recognized for 50 years of service to the Seven Springs ski patrol and the National Ski Patrol at an awards banquet in April. All started their patrol careers together in 1964, but their backgrounds are quite diverse.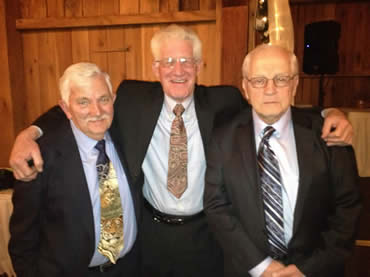 Jack Kowalski (left), born in 1937, is a retired postal carrier. Mild mannered, Jack became a senior early on, then trained many patrollers at his home patrol and the region over the years. He is a former region S&T and Senior adviser, and is still an OEC instructor.  Jack received National Appointment # 5509, a Blue Merit Star in 1995, and the Patroller Cross in 2007. 
Bob "Whitey" Weitzel (center), the young one of the group at 76, is outgoing and garrulous, never afraid to speak his mind. Now retired after years as a Nabisco Cookie sales representative, he serves as both a paid and volunteer patroller, and daylight supervisor. He  received a Purple Merit Star in 2004, and the Patroller Achievement Award this year.  
Jerry Leff (right), born in 1937, helped build his father's business, Leff Electronics, started out of the back of the family station wagon, into a successful enterprise. Now retired, Jerry was a former senior supervisor for his patrol. He also served in the military in the mid-60's.
We honor and thank these three men who have 150 years of patrol experience between them. They have given the better part of the lives to public service and the NSP.
Two Newest Certified Patrollers - Bart Gabler & Mike Wess
The region is pleased to announce and recognize Bart Gabler of Hidden Valley (Certified #786) and Mike Wess of Blue Knob (Certified #787) as the National Ski Patrol's newest Certified members! The Eastern Division Certified exam was held at Whiteface MT. Lake Placid NY in March. Bart and Mike were the only two candidates to successfully complete all the components of the exam and earn the number and shield of a Certified patroller. As you may know, less than 1% of all NSP members are able to achieve this elite level.  With the addition of these two, the Western Appalachian Region has produced a total of 13 members in the past 40 years to reach this level.  This is a testament to the quality of teaching and dedication found in our region. Bart and Mike, on behalf of the S&T staff, "Congratulations."
Blue Knob YAP Caleb Parnell saves life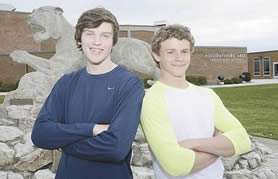 Caleb Parnell, a 17 year old Young Adult Patroller from Blue Knob Ski Patrol saved the life of a man who collapsed Sunday afternoon May 5th on the Hollidaysburg Area High School track where he and a friend were practicing football footwork drills. Both Golden Tigers football players, Caleb Parnell and Daniel Baker rushed over to Jerry Jackson, 68, who Parnell saw had fallen to the ground. An onlooker immediately called 911, but for the next 10 minutes, Jackson's heartbeat was in Baker's hands and his breath in Parnell's lungs. See the complete story in the Altoona Mirror, by clicking here.
Why Do We Ski at Tussey, There's No Gondola?
By Jeff Banks
I read SKI Magazine and I don't like it! Sure Lindsey Vonn is on the back cover and every other page has a phenomenal picture of incredible skiing in exotic locations but where is the article about our little mountain? I can dig it, who doesn't love Ms. Vonn, the outrageous skiing off of the Big Sky tram and the ethereal views from the base of Chamonix. The problem is I don't live in France and my mom doesn't give me enough allowance anymore to save up for ski trips out west. So, since our mountain is apparently not SKI Magazine article worthy, why do we ski at Tussey Mountain? I ponder this question as I sit in the roost after running training sleds on icy
Tuscarora (Jon Eckess made me do it) this past Tuesday evening. It is not just because Eric Vorwald looks fantastic in his custom Patagonia outfits or because we love skiing with Brian Younkin, who is the best skier in the south eastern portion of Centre County, well actually the best in just the north western section of the south eastern portion of Centre County. It is primarily because our patrol has interesting people who have developed camaraderie over the years and we like to have fun skiing regardless of the conditions. When I started the patrol I only knew a few patrol candidates from my cohort and I felt a little intimidated with my limited experience compared to the seasoned patrollers. Over the years though, I am sure that many of us have had a similar experience developing friendships and gradually feeling like a part of a Tussey mountain patrol family (or at least like a step family that we see on weekends). I think that we have a good mix of old school and new school and yes, even the snow boarders aren't bad to have around as long as they stay on their side of the mountain. Even though we don't get 500 inches of powder or have slope side condos and the terrain sometimes resembles a frozen glacier or an oatmeal mush bowl more than a ski area, we do have a nice little fun mountain that is close to home and more importantly a place where you can always find a friendly ski partner. It's been a great season and I look forward to seeing you all next year.
For questions, comments, or more information, click here to reach the Webmaster