National Ski Patrol - Western Appalachian Region News
2013 National Board Election - Voting deadline is Dec 2nd.
It is once again time to cast your votes in the National Board of Directors election. Voting will take place from October 15 through December 2nd. The link to place your vote and the information for all of the candidates may be found on the National web site at www.nsp.org. You are being asked to vote for 4 of the 10 candidates who will serve three year terms as members of your National Board. In the past several elections, Patrollers of the Eastern Division have requested that the leadership of the Division provide some insight into the candidates running for election. The Eastern Division Board of Directors have ranked the candidates in order of who they felt would best serve the NSP. The results of their collective thoughts are listed here.

Ranked NBOD Candidates
1. Dave Walker
2. Morgan Armstrong
3. Norris Woody*
4. Brian Cobble
5. Tom Sherry
6. David Ulrich
7. Kevin Johnson
8. Chuck Poviltz
9. Susan Swapp-Trueblood
10. Wally Shank*
*Past Board Service

You are encouraged to review all of the candidates' information available on the National web site at www.nsp.org.
There is also a ballot question to amend the National Bylaws. The Eastern Division Board of Directors recommends you vote YES.
2014 Region Patroller School & Women's Seminar - Feb 1 & 2
The Western Appalachian Region 2014 Patroller School and Women's Seminar will be held the weekend of Feb 1st & 2nd at Seven Springs - 8am to 4pm Sat, 8am to 1pm Sun.  The two day clinic offers you top level training from division and region staff and PSIA level 3 instructors  Designed for all alpine patrollers - Candidate, Basic, Senior or working toward Senior or T/E - you'll be able to refine your skills in Skiing, Patroller Skills and Toboggan Handling. Women in the Women's Seminar will be taught by top women in the division training staff the easy way to handle a toboggan. Don't wait to sign up. Space is limited. The last Patroller School sold out in just one week!  Contact region S&T advisor Eric Speedy or Region Director Marty Silverman if you have any questions. 
2013 Patroller Achievement Award Winners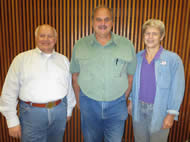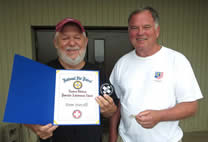 Former Canaan Patrol Director Sam Harold was presented the 2013 Patroller Achievement Award by new patrol Director Mike Mullens at the Canaan refresher on Sept. 21st. He is the first Canaan patroller to receive this award. Veteran Boyce Park Ski Patrollers Rich Linzer, Jim Jacobs, and Kim Metheny were the first Boyce patrollers to be presented with the Patroller Achievement Award at the Boyce refresher on Sept. 29th.
YAP's start on-line fund rasing drive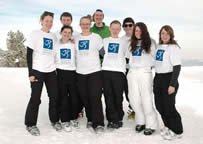 The Young Adult Patrollers (YAP's) of the Western Appalachian Region are starting an on-line fundraising drive to raise money to go to the Eastern Division Young Adult Patroller Seminar at Sugarloaf in Maine in March of 2014. If you'd like to help, or to learn more, please click on http://www.gofundme.com/434skk. You can read more about all they did last season by clicking on Programs, then on the YAP page. Please support our Region's YAP's. They are the future of the National Ski Patrol.
2014 PA SnowSports Museum Hall of Fame Nominations Accepted
The Pennsylvania SnowSports Hall of Fame ceremony will be held at Seven Springs on Friday evening and Saturday September 19-20, 2014. The Western Appalachain Region has plenty of people what shoudl be considered for the Hall of Fame (HOF). If you know you think would be a shoe in, you can nominate him or her yourself. The process to nominate qualified individuals for election to the HOF has been updated and is available for your use electronically starting by logging onto the updated website of the PA SnowSports Museum at www.pasnowsportsmuseum.com.  

Potential candidates for election to the HOF must be a current or native born resident of Pennsylvania. They should have received outside recognition as a significant achiever in snowsports. Multiple areas of contribution to snowsports are necessary to qualify for election to HOF.  A detailed list of those areas of contribution and impact on our sport is shown on the qualifications form on the website. All nomination materials are to be delivered to the Chairperson of the HOF nomination committee via email by January 15, 2014. Please contact Gary Johnson, HOF process administrator if you have any questions at gjohnson331@gmail.com or Jim McHale, Chairman of PA SnowSports Museum Hall of Fame at jmchale02@comcast.net   or via cell at 215-280-7228. 
Blue Knob YAP Caleb Parnell saves life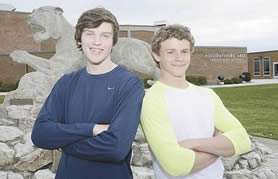 Caleb Parnell, a 17 year old Young Adult Patroller from Blue Knob Ski Patrol saved the life of a man who collapsed Sunday afternoon May 5th on the Hollidaysburg Area High School track where he and a friend were practicing football footwork drills. Both Golden Tigers football players, Caleb Parnell and Daniel Baker rushed over to Jerry Jackson, 68, who Parnell saw had fallen to the ground. An onlooker immediately called 911, but for the next 10 minutes, Jackson's heartbeat was in Baker's hands and his breath in Parnell's lungs. See the complete story in the Altoona Mirror, by clicking here.
Region ski patrollers assist at Pittsburgh Marathon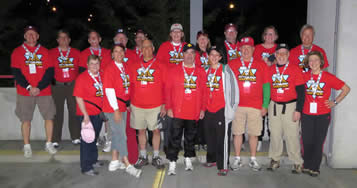 Twenty patrollers from the Western Appalachian Region assisted as Rapid Response Team members at this year's Pittsburgh Marathon. With just two weeks notice, Pat Boccardi, patrol director of the Boyce Ski Patrol assembled a team of patrollers from Boyce Park, Hidden Valley, and Seven Springs ski patrols to volunteer to assist at the marathon. This dedicated group met at a downtown parking garage at 5:30am on race day. They deployed in multiple areas to assist the UPMC medical staff and city paramedics in and around the finish line. Some were stationed along the last stretch of the race course,
an area known for a high rate of cardiac incidents, to spot and assist ailing runners. Others were stationed just beyond the finish line, an area known as the drop zone because drained and hurting runners often stop and drop the second they cross the finish line. They kept the runners moving to avoid a pile-up and assist them into a wheel chair or higher medical care if needed. Still other patrollers stood on the pedestrian bridge over the finish line and acted as spotters for downed or ailing runners on the final leg of the course. Two other patrollers worked at an aid station at about the 21 mile mark. Patrollers were startled and pleased to hear "thank you"s from the runners as they ran by. All patrollers had a great experience and are looking forward to volunteering again next year.
Patrol volunteers included Pat Boccardi, Joe Miller, Patty Vilsack, and Linda Williams from Boyce Park, Rick Etling, Gary Hepler, Ginger Hepler, Chris Lindberg, Denny Matuzak, Ken Schweinsberg, Marty Silverman, Anne Sorrentino, Connie Wolff and Sarah Jane Edinger from Hidden Valley, and John Becer, John Dyke, Dave Schmidt, Emily Tabor, Jim Wojciechowski, Bill Kozlovich, and Greg Goldstrohm from Seven Springs.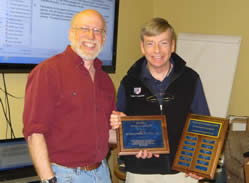 Bill Cline named Region Patroller of the Year
Bill Cline, of the Seven Springs ski patrol, was chosen as the Western Appalachian Region 2013 Patroller of the Year. Bill has been patrolling for 37 years, serves as a shift supervisor at Seven Springs, is the Eastern Division legal advisor, region certified advisor, S&T IT, and spends many many hours training patrollers at his home mountain as well as patrollers around the region and the division as a division S&T staff member. We congratulate Bill for his dedication and hard work on behalf of the National Ski Patrol. 
Region YAP's Bring Home Three Awards
Nine Young Adult Patrollers (YAP's) participate at the Eastern Division YAP Seminar held this past weekend at Smugglers Notch Resort. Blue Knob's Caleb Parnell placed 3rd in both the Skiing and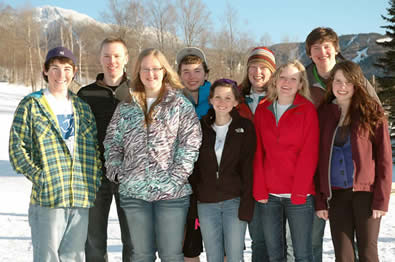 Overall categories out of 46 participants. Seven Springs Jared Boger, Cody Weinzierl along with Caleb placed 4, 5, & 6 in tobogganing, respectively. Tussey Mountain's Maddy Nyblade took 6th in skiing in addition to being the recipient of the Hans Hyson Award. This very special award goes to a Young Adult Patroller who demonstrates a positive attitude, respects his/her peers, patrollers and the general public as well as being active at their home mountain, school and performs community service. Other Young Adult Patrollers representing our region who attended this event and placed in the middle of the pack or chose to participate on a clinic/enhancement track were Austin Airhart from Seven Springs, Christina Brady, Anna Hermann, Brittney DeHart from Blue Knob and Eve Farwell from Tussey. A congratulations and job well done. And thanks to region YAP advisor Liz Hermann from Blue Knob and the chaperones: Bruce Ferguson, July Patteron, Bob Horell and Brian Weinzierl from Seven Springs, Tim Parnell from Blue Knob and Will Farwell from Tussey.
Region hosts NordicFest 
Eastern Division 2013 NordicFest was hosted in Western Appalachian Region by Laurel Highlands
Nordic Ski Patrol on March 1st , 2nd & 3rd, 2013. There were 26 patrollers from as far as upstate New York to West Virginia and as far east as New Jersey. Low angle rescue was taught by John Boburchuk from Wilderness Emergency Rescue Institute. They practiced on knot skills that will be incorporated later in to low angle rescue rigging exercise. Afternoon activities were a Ski Enhancement seminar by Nordic Advisor Jerry Timcik. Patrollers also had the chance to practice femur traction splint and emergency toboggan building on the ski trail. In the evening Laurel Hill State Park Manager Mike Mumau had a slide show presentation. The slide show consisted of Laurel Hill, Laurel Ridge, Laurel Highlands Trail and Kooser State Parks which makes up the Laurel Hill State Park Complex. Kooser and Laurel Ridge State Park promote groomed cross-country ski trails. While Laurel Hill State Park has many multi-use trails non-groomed. It was a very informative presentation.
Wounded Warrior Patrol Week at Seven Springs a Success
For the second year in a row, Seven Springs hosted the Wounded Warrior Patrol program. This is for wounded vets and their families to spend a week learning to ski. The Wounded Warrior Patrol program, held February 24 to 28 2013 at Seven Springs, offers our wounded warriors and their families to learn the sport we love - skiing. Stay tuned for photos of the event. To learn more, visit the wounded warrior patrol website at http://www.woundedwarriorpatrol.org/index.html. You can still donate to the program. Send all donations to the wounded Warrior Patrol c/o Evelyn Alcorn at Seven Springs.
NSP Celebrates 75th Anniversary in Denver
More than 350 patrollers attended the National Ski Patrol 75th Anniversary celebration in Denver February 1 - 3. Not only did patrollers from all over the United States and Alaska attend, but patrollers from around the world attended, including Canada, Germany, and a marine stationed in Amman Jordan came all the way home to celebrate the occasion. Representing the Western Appalachian Region were Region Director Marty Silverman, 2010 Region Patroller of the year Mike Calabreze from Blue Knob, and Andy Miller from Seven Springs.
Why Do We Ski at Tussey, There's No Gondola?
By Jeff Banks
I read SKI Magazine and I don't like it! Sure Lindsey Vonn is on the back cover and every other page has a phenomenal picture of incredible skiing in exotic locations but where is the article about our little mountain? I can dig it, who doesn't love Ms. Vonn, the outrageous skiing off of the Big Sky tram and the ethereal views from the base of Chamonix. The problem is I don't live in France and my mom doesn't give me enough allowance anymore to save up for ski trips out west. So, since our mountain is apparently not SKI Magazine article worthy, why do we ski at Tussey Mountain? I ponder this question as I sit in the roost after running training sleds on icy
Tuscarora (Jon Eckess made me do it) this past Tuesday evening. It is not just because Eric Vorwald looks fantastic in his custom Patagonia outfits or because we love skiing with Brian Younkin, who is the best skier in the south eastern portion of Centre County, well actually the best in just the north western section of the south eastern portion of Centre County. It is primarily because our patrol has interesting people who have developed camaraderie over the years and we like to have fun skiing regardless of the conditions. When I started the patrol I only knew a few patrol candidates from my cohort and I felt a little intimidated with my limited experience compared to the seasoned patrollers. Over the years though, I am sure that many of us have had a similar experience developing friendships and gradually feeling like a part of a Tussey mountain patrol family (or at least like a step family that we see on weekends). I think that we have a good mix of old school and new school and yes, even the snow boarders aren't bad to have around as long as they stay on their side of the mountain. Even though we don't get 500 inches of powder or have slope side condos and the terrain sometimes resembles a frozen glacier or an oatmeal mush bowl more than a ski area, we do have a nice little fun mountain that is close to home and more importantly a place where you can always find a friendly ski partner. It's been a great season and I look forward to seeing you all next year.
For questions, comments, or more information, click here to reach the Webmaster
Join the Ski Patrol
Alpine and Nordic Patrols in the Region are looking for additional members. To learn what patrolling is all about, click on the video.
For information about how to join a ski patrol, click here to contact us.
Coming Events:
2013-2014
Winter Training Schedule:
Dec 21 - S&T TE Staff Refresher - Seven Springs
Jan 5 - Intro to Senior S&T Clinic - Seven Springs
Jan 5 - Intro to Senior EMM Clinic - Seven Springs
Jan 11 - S&T Clinic - Canaan Valley
Jan 12 - Senior EMM Clinic - Seven Springs
Jan 12 - S&T Clinic - Wisp
Jan 18 - S&T Clinic - Mt. Pleasant
Jan 18 & 19 - Eastern Division Women's Seminar - Bristrol Mt.
Jan 25 & 26 - Region YAP Seminar - Blue Knob
Jan 25 & 26 - Eastern PA Region Patroler School - Elk Mt.
Jan 26 - Senior EMM Clinic - Hidden Valley
Feb 1 & 2 - Region Women's Seminar - Seven Springs
Feb 1 & 2 - Region Patroller School - Seven Springs
Feb 2 - Senior EMM Clinic - Hidden Valley
Feb 8 - S&T Clinic - Blue Knob
Feb 9 - Senior EMM Clinic - Seven Springs
Feb 22 - S&T Clinic - Tussey Mountain
Feb 23 - S&T Clinic - Seven Springs
Mar 1 - Senior EMM Clinic - Seven Springs
Mar 1 - S&T Clinic - Seven Springs
Mar 8 - Senior EMM Eval - Seven Springs
Mar 9 - Senior S&T Test - Seven Springs
Mar 14, 15, 16 - Division YAP Seminar - Surgarbush, ME
Links:
Region Director